Encino, Calif., August 24th, 2018 –Software Advice by Gartner, the world's leading research and advisory company featuring online reviews of Electronic Heath Records, ranked Praxis EMR number one in usability.  Praxis ranked first place after a review of 140 Electronic Health Records systems, earning the best overall score in Usability and the highest User Recommended score.
Software Advice's FrontRunners uses real reviews from real software users to highlight the best software products to help small businesses make more informed decisions about what software is right for them.  Praxis EMR placed higher than all other EHRs evaluated with the survey's top score of 9.87.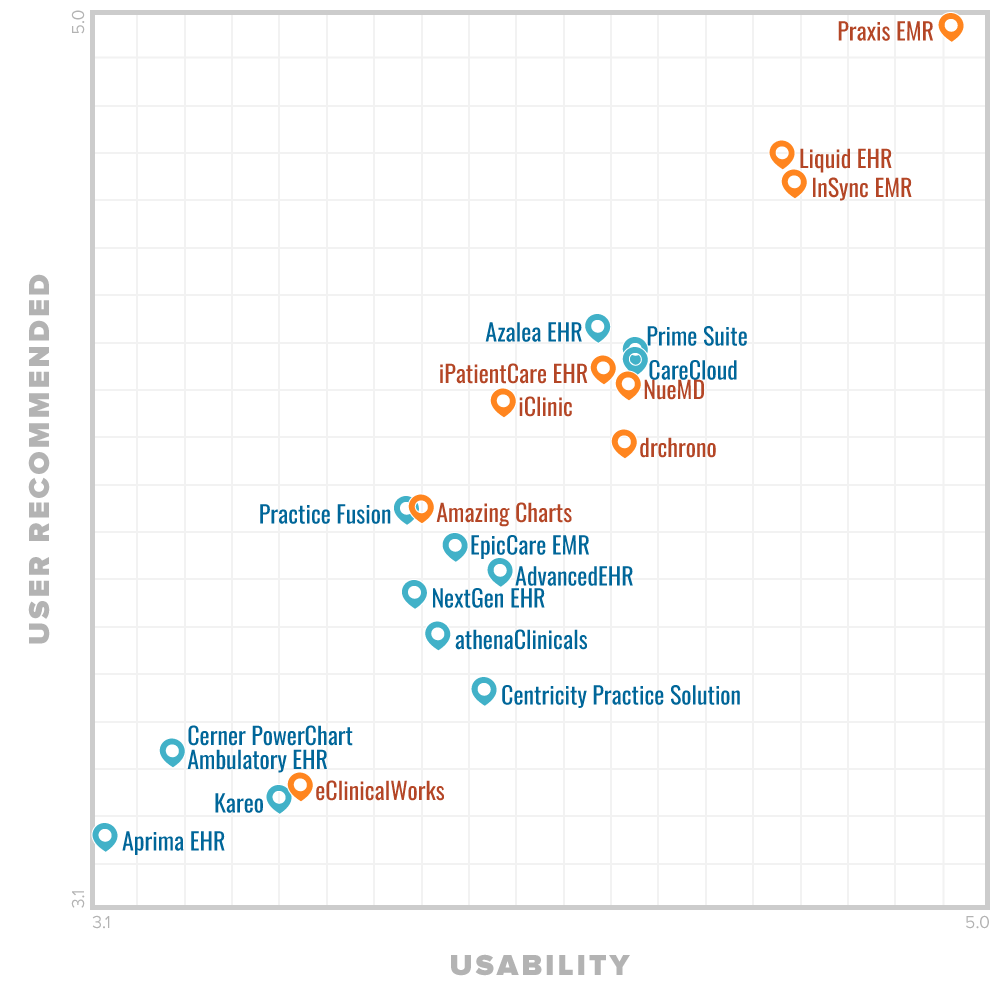 "To be rated number one at Software Advice shows that Praxis' focus on EHR usability has paid off," said Doctor Richard Low, CEO of Praxis EMR. "This is further proof that the old paper paradigm is no longer applicable to modern medicine.  In fact, templates contribute to physician burnout because they waste hours of valuable time and result in poor documentation.  When physicians are spending twice as much time with their EHR as they do with patients, something is definitely wrong."
Rather than relying on cumbersome templates that mimic the old paper chart, Praxis EMR uses artificial intelligence (AI) technology called Concept Processing that learns from each provider to document progressively faster and smarter.  Praxis learns from each provider regardless of specialty, training, or experience.
"Thanks to EHR interoperability, more and more physicians will be allowed to use Praxis," added Doctor Low.
Please download the full FrontRunners for Electronic Medical Records report here.
About Software Advice
Software Advice, a Gartner company, is the leading online service for businesses navigating the software selection process. Advisors provide free, personalized software recommendations, helping companies of all sizes find products that meet their business needs. Software Advice also features objective research by industry experts and reviews from validated users, saving buyers time and resources. For more information, visit softwareadvice.com
Required disclaimer: FrontRunners constitute the subjective opinions of individual end-user reviews, ratings, and data applied against a documented methodology; they neither represent the views of nor constitute an endorsement by, Software Advice or its affiliates.
About Praxis EMR
Template-free Praxis EMR is a leading innovator of Electronic Medical Record software, serving thousands of physician-users across the U.S. The new Praxis EMR v7 is ONC-certified as a Complete EHR under the MACRA Quality Payment Program.  For more information, please visit www.praxisemr.com
Contact: Oliver Hager at 818-592-2900: Posted in Choosing the Right EMR, EMR/EHR, News and Studies | 1 Comment |

When selecting an electronic healthcare record (EHR) system for your small practice, you might think a larger provider is the best choice. However, EHR software applications from large companies are often expensive and complex, and may not be well suited for a small practice. On the other hand, there are plenty of smaller, more affordable EHR systems that are not only comprehensive but are more effective for a small practice.

Of course, the first step is to involve your entire staff in the decision-making process. The people who will actually be using this system should have a say in the software you ultimately use. What might look great on paper could actually grind workflows to a halt and diminish the quality of patient care. Prioritizing the patient and staff experience should be the central goal of the EHR selection process.

We recommend a cloud-based option for smaller practices rather than a locally hosted system. By outsourcing hosting to the vendor, your practice won't have to maintain an IT staff or pay high upfront costs for installation. And if something goes wrong with the system on the vendor's end, it's their responsibility to fix it.

Interested in an electronic health records systems for a specialty medical practice? See our 2018 recommendations for the best EHR systems for specialists. 

Marshall Maglothin, principal statistician at General Dynamics Information Technology, said that simplicity of use is essential. Physicians need time with their patients, rather than filling out charts. Ease of use ensures better patient care and more attentiveness, rather than the tedious need to fill out charts and focus on the screen.

"Our most expensive and valuable resource is our time," said Maglothin, who has experience using EpicCare, MEDENT and athenahealth's EHR systems.

Systems that are difficult to use will not only slow down your service to patients, they could frustrate your employees, too.

Dr. James Legan, a Montana-based internist who works at a multispecialty practice, told Business News Daily vendor support is also a key for small practices, and echoed the idea that ease of use is essential. He noted that minimizing downtime in case a problem should arise and making sure the system is intuitive are especially important to his practice.

Cost is a key concern for small practices. Luckily, there are many vendors that focus on small practices and try to tailor their products to the needs of those providers.

Our Recommendations for Small Practices

Here are three small practice EHRs we recommend you consider. To learn more about how we chose these, see our methodology section below.
SOAPware: A system that consistently received high marks across the board, SOAPware offers a solid bang for your buck. The one-time activation cost seemed pricey ($2,000 per provider), but after that, the monthly subscription was $399 per provider, including a practice management component and cloud-based hosting. SOAPware comes with more than 30 preset specialty templates and is highly customizable to support any workflow or other specialty need. The system also boasts a large number of interfaces, meaning bidirectional communication with other health care facilities isn't much of a problem for SOAPware users. However, we did have a difficult time getting in touch with its customer service team at first.
Praxis EMR: Praxis EMR is an innovative system that incorporates machine-learning algorithms into its workflow and eschews the more traditional component of templates for its approach of "agents," which are essentially event/action triggers. Using the AI in Praxis makes it smarter and faster, adapting to common scenarios to save physicians time, money and help them get back to focusing on the patient's care. Praxis EMR has no setup fee and starts at $189 per user per month; however, there are several additional fees that buyers should be aware of. First of all, the lowest rate requires a contract, and there are different price points for cloud-based hosting and server hosting. Still, for the several hundred dollars Praxis EMR costs per user per month, it delivers a high-quality, unique EHR that incorporates machine-learning technology in a useful and creative way.
Care 360: Care 360, an EHR by Quest Diagnostics, is an affordable system that offers quality performance to small practices. It features good support and a high level of customizability to suit most any workflow as well as more than two dozen preset specialties. Our favorite aspect of Care 360 for small practice is that the price starts at $250 per user per month, making it a middle-of-the-road solution, and custom plans are available for unique situations. Care 360 also features certain discounts for those practices with multiple users. With a strong interface foundation, small practices can rest comfortably knowing that they'll be able to communicate with other members of the health care ecosystem using this interoperable EHR.
Our Methodology

To determine our best picks for electronic health records (EHR) systems, we consulted three surveys of physicians found on Medical Economics, Medscape and American EHR. We also looked at other software advice websites and considered user reviews to find leading systems. Ultimately, we ended up with a list of 38 candidates.

We then interviewed physicians about what they are looking for in an EHR system and used their input to narrow down our pool based on three factors: ease of use, vendor/customer support and how an EHR might impact the quality of care.

Using this criteria, we chose the following final candidates to review further: Epic, MEDENT, Practice Fusion, athenahealth, eClinical Works, Amazing Charts, e-MDs, SOAPware, AdvancedMD Inc., Modernizing Medicine, Care360, PraxisEMR and NueMD.

We evaluated our finalists on the following criteria:
Estimated cost
Ease of use
Practice management integrations
Patient portal
Interoperability
Implementation support
ICD-10 ready
Meaningful Use Stage II certified
Customer service
Free trial/demo experience
Qualitative physician responses
To gather information and assess the quality of each company's customer service, we called each company and identified ourselves as working for a small medical practice that would soon open.

In order to estimate the cost of each system – which varies widely depending on what is included, what optional features are available, and the size of a practice – we consistently stated to sales representatives that we would opt for cloud hosting, integrated practice management, and our practice consisted of five providers. We based our price estimates on pricing we were given for those parameters.

We also conducted several interviews with physicians who have firsthand experience with the EHR systems on our final list. We considered their qualitative responses in our final recommendations as well.

Following our research, we selected several systems to recommend for small practices and specialists. Because we were unable to use the systems in a clinical setting – and because every physician's wants and needs are unique – we refrained from picking a single "best" system and instead recommended several systems that scored positively in each of our criteria and received favorable physician reviews.

Vendor List

Here is a comprehensive list of EHR vendors. This alphabetical list also includes the recommendations mentioned above.

Acrendo Software, Inc. – Acrendo's EHR system is available in client-server or cloud-based options, is certified for Meaningful Use Stage II, and is ICD-10 ready. Acrendo also offers integrated practice management and revenue-cycle management software. Product demonstrations are available at Acrendo.com.

Advanced Data Systems – MedicsDocAssistant is certified for Meaningful Use Stage II and is ICD-10 ready. The system includes options for integrated practice management, billing and revenue cycle management. Live demonstrations are available through Adsc.com.

AdvancedMD, Inc. – The AdvancedEHR is integrated with scheduling and billing software, and includes a cloud-based option. AdvancedMD also offers an iOS mobile application. It is Meaningful Use Stage II certified and ICD-10 ready. More information can be found at Advancedmd.com.

Allscripts – Allscripts Professional EHR is designed for small and mid-sized practices and offers strong interoperability with labs and pharmacies, Meaningful Use Stage II certification, and ICD-10 preparedness. Request product demonstrations at Allscripts.com.

Amazing Charts – Amazing Charts is designed by a doctor for usability and affordability. It is Meaningful Use Stage II certified, ICD-10 ready and offers integrated practice management. Free trial and demonstration videos are available at Amazingcharts.com.

athenahealth – athenahealth's cloud-based system offers integrated practice management and billing software and Meaningful Use Stage II certification as well as ICD-10 preparedness. Request a live demonstration or view a product demonstration video at athenahealth.com

Cerner – Cerner's EHR system is certified for Meaningful Use Stage II and is ICD-10 ready. It offers integrated practice management and billing systems, and aims to maximize engagement between physicians and patients. More information is available at Cerner.com

CompuGroup Medical, Inc. – CompuGroup's EHR includes an integrated practice management system and is available in a web-based version. Video demonstrations are available at CGM.com

eClinical Works – eClinical Works' v10 EHR includes electronic referrals, hospital interoperability and data reporting on health care records. Other features and live demonstrations are available at eClinicalWorks.com

eMDs – Both Meaningful Use Stage II certified and ICD-10 ready, eMDs focuses on usability and capturing clinical and billing data. eMDs also offers cloud-based hosting. Free trial available at e-MDs.com

Epic – EpicCare EHR offers an integrated practice management system, Meaningful Use Stage II certification and ICD-10 preparedness. Epic touts its interoperability across the continuum of care as a hallmark of the system. More information available at Epic.com

Evident – The Thrive EHR application is built for rural communities, hospitals and practices. The system offers integrated practice management, billing and financial management software. Find out more about Thrive at CPSI

General Electric – GE Centricity EHR is "an electronic medical record designed to interface with practice management systems in larger physician practices." Customizable to individual workflows, the system promises seamless interoperability, Meaningful Use Stage II certification and is ICD-10 ready. Webinars and more information available at GEHealthcare.com

Greenway – Greenway Health's Prime Suite is ICD-10 ready and Meaningful Use Stage II certified. It offers an integrated EHR/practice management system that it calls usable and flexible. More information and video demonstrations are available at GreenwayHealth.com

Healthfusion – The MediTouch EHR system is cloud-based EHR and practice  management software focused on hospitals and billing services. Both ICD-10 Ready and MU Stage II certified, MediTouch EHR offers a customizable experience. Find out more at Healthfusion.com

Healthland – Healthland's Ambulatory EHR offers a Windows-based, customizable user interface. It includes referral management software, an integrated task manager, and eprescribing. More information is available at Healthland.com

Kareo – Kareo is a free, cloud-based EHR that is Meaningful Use Stage II certified and ICD-10 ready. It offers secure messaging, an integrated patient portal and a comprehensive dashboard. More information and video demonstrations are available at Kareo.com

LeonardoMD – A web-based EHR with an integrated billing and practice management system, LeonardoMD offers customizable workflows, tutorials, and one-on-one implementation consultants. Request a live demonstration at LeonardoMD.com

McKesson – McKesson's EHR hosts an integrated practice management system, is certified for Meaningful Use Stage II and comes ICD-10 ready. Both client-server and cloud-based, McKesson aims to tailor their system to the size of the practice using it. Video demonstrations available at McKesson.com

MEDENT – MEDENT's EHR offers mobile access, billing and practice management software. It is Meaningful Use Stage II certified and ICD-10 ready, and can be configured for client-server or cloud hosting. Find out more at MEDENT.com

MEDHOST – The EDIS EHR system is designed to eliminate drop-down menus and unnecessary screens for simplicity and usability. MEDHOST boasts strong interoperability with hospital systems, labs and pharmacies. EDIS is able to operate through an iPad application. Schedule a demonstration at MEDHOST.com

Meditech – Meditech's EHR system focuses on the ability to share data and interoperability. It is Meaningful Use Stage II certified and ICD-10 ready. Meditech offers a web-based option and is mobile friendly. More information is available at Meditech.com

Modernizing Medicine – Built "from the ground up" by a doctor, Modernizing Medicine is an iPad native EHR tailored for the specific needs of various specialists. Its Electronic Medical Assistant solution is certified for Meaningful Use Stage II and comes ICD-10 ready. Live demonstrations are available for scheduling at ModMed.com

NextGen – NextGen's Ambulatory EHR is focused on ease of use, integration with practice management and billing systems, and interoperability. It is certified for Meaningful Use Stage II and is ICD-10 ready. Video demonstrations are available at NextGen.com

NueMD – Nuesoft's NueMD EHR system supports more than 100 specialties, which makes it one of the most versatile solutions we reviewed. It is ICD-10 ready, highly interoperable and Meaningful Use II certified. Find out more at NueMD.com

Practice Fusion – Practice Fusion is a free, cloud-based EHR that organizes every feature into one local dashboard. It operates across all devices, is Meaningful Use Stage II certified and ICD-10 ready. Video demonstration and downloads are available at PracticeFusion.com

Praxis – PraxisEMR is one of our best picks for small practices. The system utilizes AI and machine-learning algorithms to save physicians time in predictable situations. It also eschews traditional templates in favor of cause/effect triggers known as agents. Find out more at PraxisEMR.com

Quest Diagnostics – The Care360 EHR includes eprescribing, secure messaging and multisystem interoperability. It is certified for Meaningful Use Stage II and ICD-10 ready as well as available on mobile platforms. Request a demonstration at QuestDiagnostics.com

ReLiMed – ReLiMed EHR received high satisfaction in user reviews, customers praised its excellent interface and interoperability as well as its selection of specialties. Users also reported excellent support and technical training from the company. Find out more at ReLiMed.com

Sevocity – At $359 after startup costs, Sevocity is an affordable EHR solution that promises a customized experience, specialty-specific features and a patient portal. Sevocity is Meaningful Use Stage II certified. Find out more information at Sevocity.com

SOAPware – SOAPware aims for usability and an intuitive interface. The system includes an integrated practice management and billing option as well as cloud hosting. It is Meaningful Use Stage II certified and ICD-10 ready. More information is available at SOAPware.com

WEBeDoctor, Inc. – WEBeDoctor's EHR prides itself on adaptability to individual workflows. It offers an integrated practice management and billing system as well as connectivity between your devices through the cloud. It is Meaningful Use Stage II certified and ICD-10 ready. More information is available at WEBeDoctor.com

World VistA – The official EHR of the U.S. Department of Veterans Affairs, VA-CPRS is available for demonstration download and trial at worldvista.org

WRS Health – This extremely interoperable EHR features several of the most used interface engines, meaning you can all but guarantee it will communicate with other members of the health care ecosystem. Starting at $299 per user per month, WRS Health is a reasonably affordable EHR system with highly customizable workflows and templates. Find out more at WRSHealth.com.

If you'd like your company to be added to this list and possibly considered as a best pick for our next round of reviews, please email your request to: b2bconsiderrequest@purch.com.

The largest electronic health record (EHR) companies are primarily focused on large enterprise systems, like hospitals, but there are still plenty of other EHR vendors that design their products specifically for smaller practices as well. Finding which one is right for you and your staff means focusing on things like cost and ease of use.

We recommend a cloud-based option for smaller practices rather than a locally hosted system. By outsourcing hosting to the vendor, your practice won't have to maintain an IT staff or pay high up front costs for installation. And if something goes wrong with the system on the vendor's end, it's their responsibility to fix it.

Interested in an electronic health records systems for a specialty medical practice? See our 2018 recommendations for the best EHR systems for specialists.

Source: https://www.businessnewsdaily.com/8579-ehr-systems-for-small-practices.html