Encino, Calif., August 24th, 2018 –Software Advice by Gartner, the world's leading research and advisory company featuring online reviews of Electronic Heath Records, ranked Praxis EMR number one in usability.  Praxis ranked first place after a review of 140 Electronic Health Records systems, earning the best overall score in Usability and the highest User Recommended score.
Software Advice's FrontRunners uses real reviews from real software users to highlight the best software products to help small businesses make more informed decisions about what software is right for them.  Praxis EMR placed higher than all other EHRs evaluated with the survey's top score of 9.87.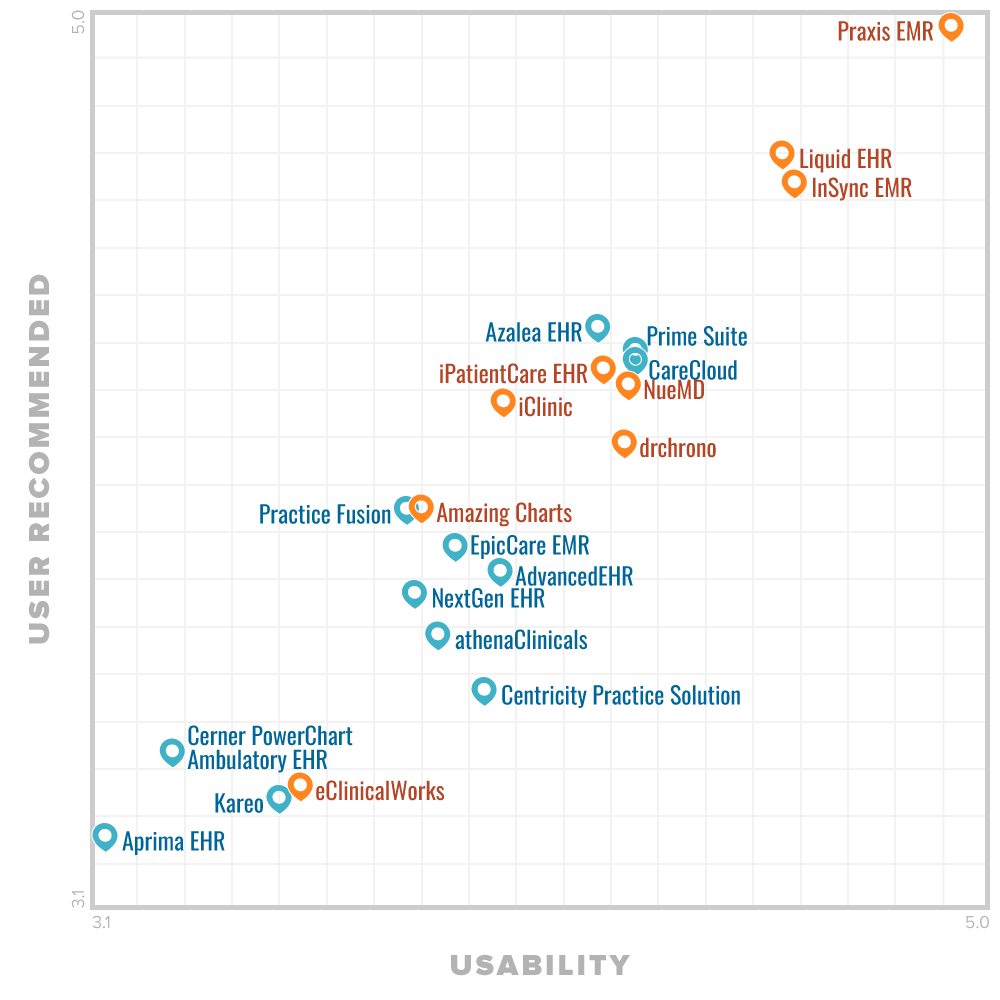 "To be rated number one at Software Advice shows that Praxis' focus on EHR usability has paid off," said Doctor Richard Low, CEO of Praxis EMR. "This is further proof that the old paper paradigm is no longer applicable to modern medicine.  In fact, templates contribute to physician burnout because they waste hours of valuable time and result in poor documentation.  When physicians are spending twice as much time with their EHR as they do with patients, something is definitely wrong."
Rather than relying on cumbersome templates that mimic the old paper chart, Praxis EMR uses artificial intelligence (AI) technology called Concept Processing that learns from each provider to document progressively faster and smarter.  Praxis learns from each provider regardless of specialty, training, or experience.
"Thanks to EHR interoperability, more and more physicians will be allowed to use Praxis," added Doctor Low.
Please download the full FrontRunners for Electronic Medical Records report here.
About Software Advice
Software Advice, a Gartner company, is the leading online service for businesses navigating the software selection process. Advisors provide free, personalized software recommendations, helping companies of all sizes find products that meet their business needs. Software Advice also features objective research by industry experts and reviews from validated users, saving buyers time and resources. For more information, visit softwareadvice.com
Required disclaimer: FrontRunners constitute the subjective opinions of individual end-user reviews, ratings, and data applied against a documented methodology; they neither represent the views of nor constitute an endorsement by, Software Advice or its affiliates.
About Praxis EMR
Template-free Praxis EMR is a leading innovator of Electronic Medical Record software, serving thousands of physician-users across the U.S. The new Praxis EMR v7 is ONC-certified as a Complete EHR under the MACRA Quality Payment Program.  For more information, please visit www.praxisemr.com
Contact: Oliver Hager at 818-592-2900: Posted in Choosing the Right EMR, EMR/EHR, News and Studies | 1 Comment |

A recent study by the American Medical Association (AMA) found that physicians spend twice as much time with their EHR as they spend in "direct clinical face-time" with their patients.*

Independent physicians are embracing concierge medicine to improve profitability and offer more personalized care. Through the concierge model, physicians can spend more time with their patients, improve medical quality, and strengthen their bottom line.

Praxis EMR enables the customized care that concierge medicine requires. Praxis has no cumbersome and rigid templates. Instead, Praxis uses artificial intelligence (AI) that learns how physicians practice and gets faster and smarter as they chart. Charting with Praxis is personalized and easy, allowing doctors to spend less time documenting and more time doing what they do best; caring for patients
Focus on Patient Care
Physicians using Praxis rate it #1 when asked if their EHR allows them to "focus on patient care rather than on the computer".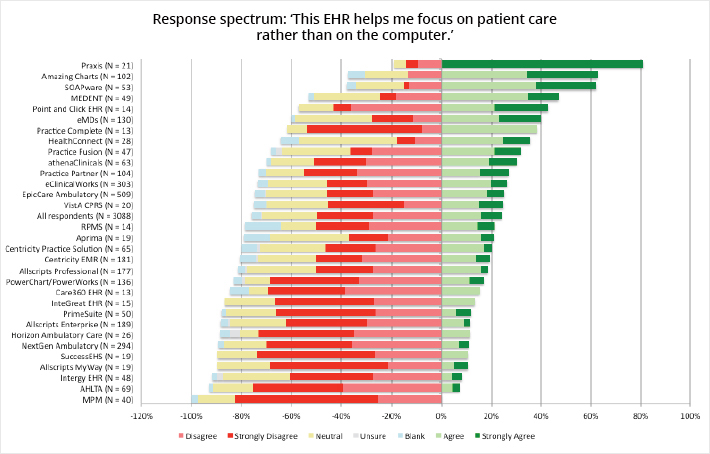 Go Home Earlier
Spend more time with your patients (and go home earlier).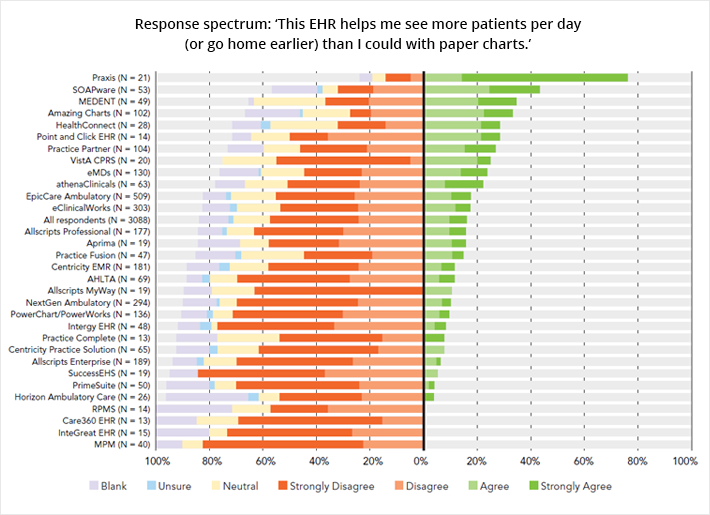 Enjoy Using your EHR
Praxis EMR is #1 when physicians were asked if they enjoy using their EHR. No other EHR comes close.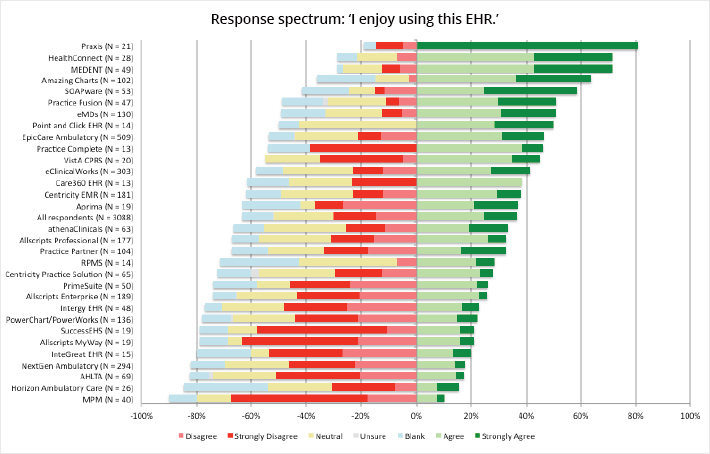 *AMA – Medical Economics https://wire.ama-assn.org/life-career/clicks-and-keyboards-stealing-face-time-patients
**AMA – Mayo Clinic https://www.medscape.com/viewarticle/887940
*** Charts taken from AAFP EHR User Satisfaction Survey, 2012, 2015.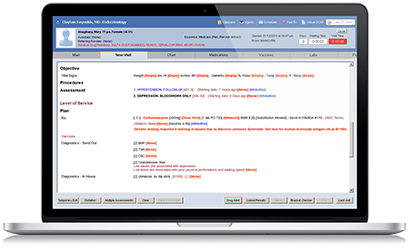 See how Praxis gets faster and smarter as you use it.
Watch the new Praxis EMR demo or call us now at 800-985-6016 to learn how Praxis will improve your practice.